After fans started questioning Cardi B is decision to reconcile with Offset, the 28-year-old rapper, who filed for divorce in September, took to Twitter to address her critics. Scroll on to learn more.
Cardi B is living life on her terms.
The rapper took to Twitter on Friday, Oct. 16 to clap back at followers who criticized her decision to reconcile with Offset after initially filing for divorce.
"Twitter users be like, 'Cardi, you're in a mentally abusive relationship. Oh my gosh. We gotta save you,'" she said. "And I be like, 'All right, but can I f–k him today? Because I need to have sex.' And n—as in my DMs talking about, 'What up big head?' I don't like that. I'm 28 years old, and my head's not big. Actually, it is, but not with a lace front. The f–k."
She also posted a video in which she issued a fake apology to her fans, joking that she "married you guys too" and "had a kid with y'all."
"Imma just give ya a apology because ya want me to apologize for living MY LIFE the way that ya live YOURS," she tweeted along with the footage. "I'm sorry. I'm not perfect I don't want to be neither."
When a follower tweeted that she deserves "better," Cardi replied, "I deserve w.e I want to HAVE!"
She also tweeted, "Imma make this very clear. Before I was a celeb I was crazy ass Cardi B. Same bitch ya saw on TV and on IG talkin s–t and doing crazy s–t. Im still that a lil bit more calm now but still the same. I don't know why ya expect something different now. This ain't Disney."
What's more is the rapper claimed in a Twitter voice message that she filed for divorce to teach Offset a "f–king lesson." She added, "I can do that. It's my life."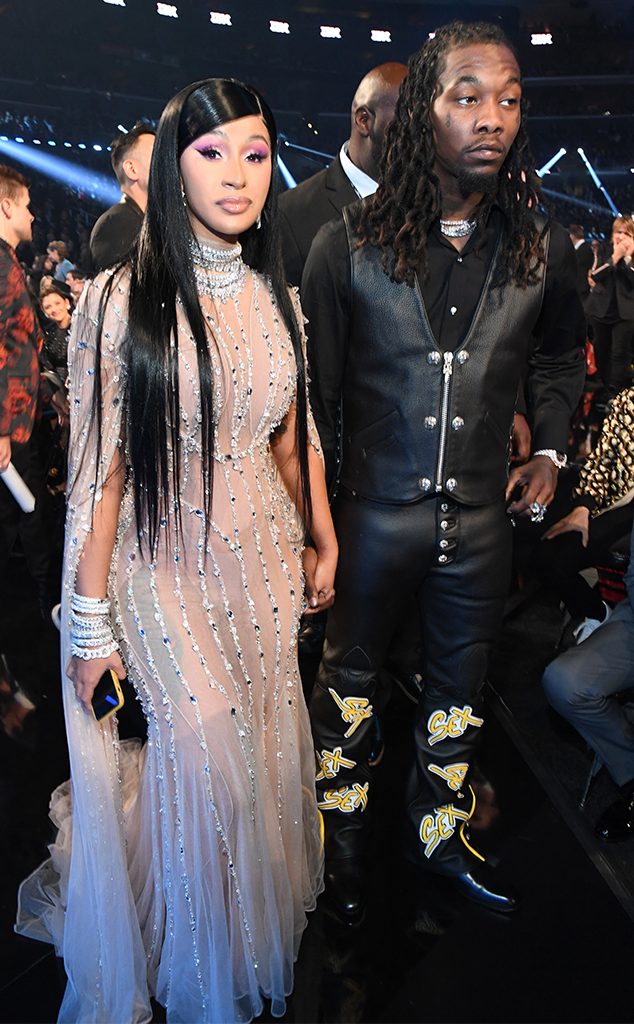 Kevin Mazur/Getty Images for The Recording Academy
Cardi and Offset sparked reconciliation rumors last weekend after they were spotted packing on the PDA at her birthday party in Las Vegas. This wasn't the first time the artists had broken up and made up. As fans may recall, the two split in 2018 but quickly reunited. But are they back together for good this time? 
"Cardi changes her mind every day whether she wants to be with Offset or not," a source told E! News. "She will complain about him for days on end and then snap out of it and want him back. She says they are back together right now, but could change at any moment. She's going with the flow and hasn't made any formal decisions on withdrawing her divorce filing yet. Divorce is still on the table."
The insider also added that Offset, who shares 2-year-old daughter Kulture with Cardi, is "excited to have Cardi back and be back in her good graces."
"He's been on his best behavior and doesn't want to lose her again," the source continued. "Offset has been showering her with gifts—specifically extravagant jewelry—and has really stepped up his game recently with his communication. Cardi has her guard up but is enjoying the quality time with him."
source: E! News