Brad Pitt and Jennifer Aniston became one of the biggest stories at the 2020 SAG Awards after they reunited backstage. Their meeting was documented via a series of pictures proving that the two exes are still on very good terms.
The image that has been most widely circulated sees Brad Pitt holding Aniston's hand which rests on his chest. His face looks towards her as she walks away. The former couple beamed and hugged after both receiving awards – he for Once Upon A Time In Hollywood and she for The Morning Show.
Jennifer Aniston and Brad Pitt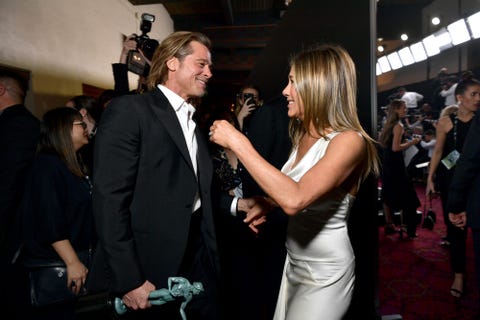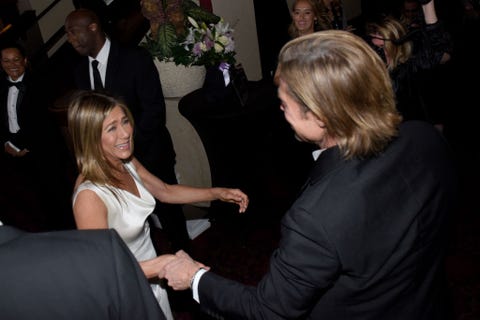 Pitt was also seen gazing at a screen backstage as he watched his ex make her acceptance speech.
Aniston laughed off the speculation about the pair during a red carpet interview with Entertainment Tonight. "It's hysterical," said Aniston. "But what else are they going to talk about?"
Earlier this month at the Golden Globes, another event that they both attended, Pitt described Aniston as a "good friend".
"I'll run into Jen… she's a good friend," he said. "It's the second most important reunion of her year."
The pair last attended the SAG Awards together in 2002. They split up in 2005 amid rumours he had had an affair with Angelina Jolie.
source: harpersbazaar